INNOVATION THAT'S SOLID AS A ROCK
Not all polymer concrete is created equal. Only one brand offers 300+ years of corrosion protection for precast and cast-in-place structures without Volatile Organic Compounds (VOCs) or Hazardous Air Pollutants (HAPs), and that's RockHardscp®. The precision engineered technology behind our state-of-the-art material-of-construction is what separates us from the rest and allows us to deliver unprecedented value to our global customers in the sanitary sewer and chemical processing industries.
Explore Our Products
With just three basic ingredients, we make polymer concrete look easy, but don't let its simplicity fool you: our competitors can't match the performance of our unique, corrosion-engineered polymer composite blend. Here's what makes up RockHardscp®: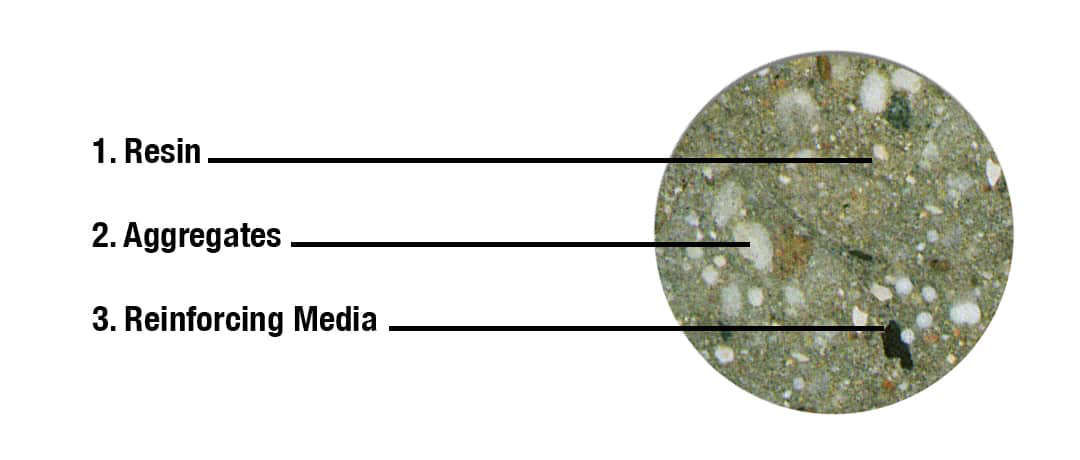 1. Resin
Our thermosetting resin binder system is free of environmental pollutants (no HAPs, no VOCs, and no Styrene, unlike other resins systems).
2. Aggregates
Chemically inert organic minerals specially selected for their impermeability and corrosion resistance, such as quartz and silica.
3. Reinforcing Media
Select proprietary reinforcing media that provide exceptional strength and rigidity.
Here's what you won't find in RockHardscp®
Portland cement
Styrene monomer
Calcareous Aggregate and Fillers
Volatile organic compounds (VOCs)
Hazardous air pollutants (HAPs)
How do we achieve multi-century durability?
RockHardscp® is completely non-porous, with a perfect synergy between resin and aggregate that's strong, rugged, and impermeable. Our RockHardscp® technology eliminates:
Chemical and waste exfiltration
Ground water Inflow & Infiltration (I & I)
The need for special beddings, linings, or coatings inside or out
The need for seams or welds
SIDE-BY-SIDE: ROCKHARDSCP® vs. CONVENTIONAL CONCRETE
MANHOLE COST COMPARISON AND LIFE-CYCLE CHART
A FINANCIALLY SOUND DECISION
QOR-TEQ™: SAME ROCKHARDSCP® STRENGTH WITH LESS WEIGHT AND LOWER COST
Our newest innovation is called QOR-TEQ™. Designed to lower overall project costs, this patented technology geometrically enhances RockHardscp® structural products while simultaneously reducing overall weight by up to 40%.
QOR-TEQ™ Benefits:
REDUCES:
Overall Weight
Raw Material Costs
Shipping Costs
Project Installation Costs
Worker Safety Risks
INCREASES:
Production Rates
Installation Rate
Overall Value
HARD ON CORROSION, EASY ON THE ENVIRONMENT
RockHardscp® has revolutionized the polymer concrete industry by offering a sustainable, eco-friendly material-of-construction. The resin systems in other polymer concrete's include styrene, or other volatile organic compounds (VOCs). However, RockHardscp®'s raw materials are completely non-hazardous and free of VOCs and HAPs.
In addition, we utilize reclaimed, renewable resources in a green manufacturing process in order to protect both our local community and the areas our polymer concrete products are installed. This gives our customers a smaller carbon footprint and reduces our manufacturing costs, savings which we pass on to you.